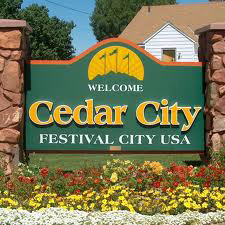 Located 250 miles South of Salt Lake City and 50 miles North of St. George. Cedar City is most famous for hosting the Utah Shakespearean Festival and home of Southern Utah University. Founded in late 1851 by Mormon Pioneers who were sent from Parowan, Utah the area is known as "Fort Cedar" from its vast iron deposits and abundance of trees.
At the end of the 2012 Census the city had a population of 28,857. Its population has increased as the city neighbors St. George Utah which is widely known for its tourism and recreation. Although it is somewhat close to St. George, Cedar's elevation is 5,840 feet, making for the city to have all 4 seasons.
The median income for a family household is around $37,500 with about 22% of the population living under the poverty line. Cedar City is a great place for raising children in a tight knit community, yet big enough to where there are great retail outlets and recreation available.